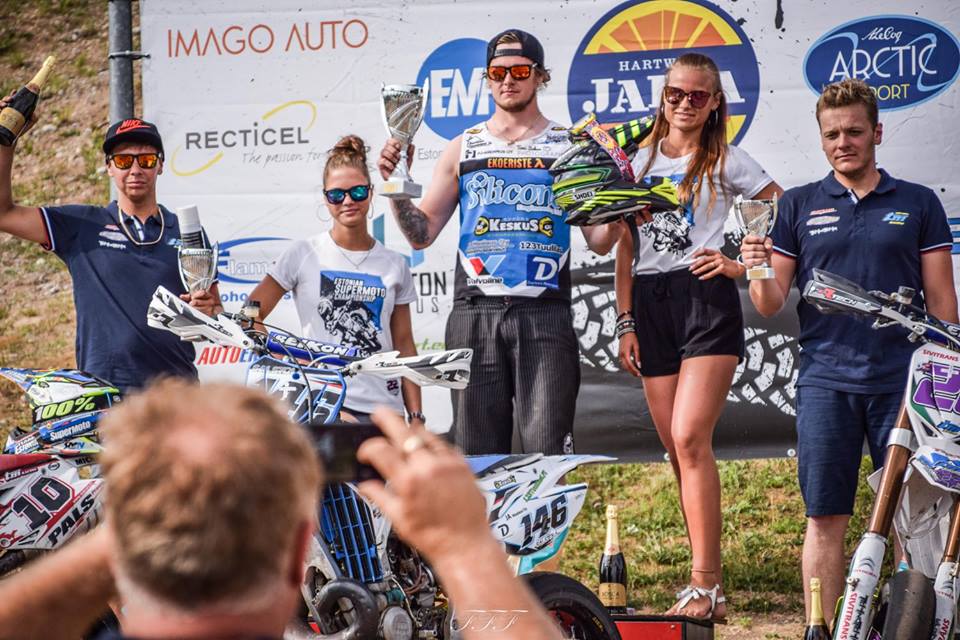 In sunny weather conditions in Madona Supermoto track (LAT) 2nd and 3rd Latvian, Estonian and Lithuanian Supermoto championship round was heald. The event brought up a record-breaking participant amount - 89!
Eero Madisson was the overall winner on Saturday as he finished 1st in both races and earned a maximum 50 points in championship standings. In second place Patrick Pals who was second in both races (44 points). Sami Uutela was 4th in the first race and 3rd in second what was good for 3rd podium step in overall (38 points).
Sunday bring up some changes. The track direction was changed. Saturday's winner was almost out of the competition as his bike broke up in free practice. Fortunately, he had a chance to borrow a new bike. But it was Eeros first experience with 2 stroke bike which shrinks his chances to fight for the podium again.
At end of the day, 1st place in the first moto and 2nd place in the second moto was enough for Sami Salstola to take an overall win in the stage (47 points). Prants Pals won the second moto but 3rd in the first moto was good only for 2nd place overall (45 points). Patrick Pals collected 42 points (2nd and 3rd).
Full results you can find here: Saturday Sunday
Foto from the event here
Foto: FF foto